Carsharing is not new to the transportation sector, but its influence has grown tremendously over the past 15 years, emerging today as an important player in a city's transportation ecosystem.
March, 2021 The new edition of Vulog's 7 Key Ingredients for Carsharing Success report provides expert guidance to help existing and future carsharing service providers launch, improve or redefine their services while achieving widespread reach, peak performance, and maximum profitability. The seven key ingredients below are – without a doubt – the ultimate recipe for carsharing success:
1) Identify the right city for you
Operators should, as a rule of thumb, prioritize cities with which they already have a certain degree of familiarity to have a successful carsharing service. This "familiarity" can come in many forms. The operator might already have other operations running in a given city or country. It may have built-in synergies thanks to local human resources that can help facilitate and manage new carsharing services.
In fact, it may even already have established connections with city or government officials. Being familiar with the country's culture (be it from personal or professional experience) can also bring a huge advantage to the carsharing operator.
Next, operators should identify which city is right for them specifically based on their unique objectives. In doing so, some of the most important factors to consider for an operator are city size & population density. Simply put, the higher the density, the better.
Finally, operators should narrow their selection to cities that are open to carsharing. Identifying cities that prioritize sustainable mobility will help new operators in their efforts to garner support – in the form of access to parking, charging infrastructure, etc. – from key decision-makers and stakeholders.
2) Size matters: go big or go home
When developing a carsharing service, a common fallacy is that starting with a small-scale pilot is a sound business strategy. In fact, it is the most typical way these services fail. Service usage data indicates that operators should be prepared to launch a full-scale operation. While a pilot can help measure from a technical standpoint, that things are working well, it will most likely not be relevant to customers, especially not in an increasingly competitive landscape.
No matter the circumstances, a high-density fleet is generally far more relevant to customers. Therefore, no matter the city or business model, launching with a larger – rather than smaller – scale fleet is key to ensuring that a mobility service can develop a loyal user base fast. While the numbers will depend on each individual city, a good rule of thumb is approximately 7 cars per square kilometer.
3) Start with carsharing, grow with multi-service
It's best to start with a single service that can provide a solid foundation for mastering fleet management and understanding the diverse needs of users. Carsharing is, therefore, an excellent way to penetrate the shared mobility market since it helps you acquire both. Operators should focus on acquiring and perfecting their fleet management skills.
Therefore, starting off with carsharing and easing into other "simpler" types of vehicle-sharing services (kick-scooters, bikes, mopeds, etc.) will allow for much easier integration from a single to a multi-service platform. How so?
Managing a fleet of large, capital-intensive vehicles (e.g. cars) helps operators acquire a much broader set of skills necessary for fleet optimization than they would acquire by starting with any other type of vehicle. In this way, starting with carsharing gives operators a competitive advantage over the competition.
Of course, cars may not correspond to all user's needs 100% of the time which is why growing one's service is highly encouraged. The current mobility landscape is characterized by connected and "smart" urbanites seeking a variety of shared mobility services that complement one another.
They want solutions that can help them travel in the speediest and most efficient manner which often means traveling by multiple means of transportation. This can translate to taking a car from point A to point B in the morning and then hopping onto a moped in the afternoon to get from Point B to Point C.
For carmakers or other mobility providers, the result of diversifying one's shared mobility portfolio is not just a new stream of revenue, but also a new way to increase exposure for different types of services among new or prospective users.
4) Offer a seamless user experience
The customer experience starts the moment a user downloads the shared mobility application. Operators need to remain alert during all three phases of the user experience – before, during, and after:
Before: The application itself must be seamless, guidelines should be clear, and users need to be educated about the service prior to registering. Registration itself needs to be done in less than 5 minutes, from filling out personal information to uploading the required documentation. The fewer clicks involved, the speedier the process, and the happier the user.
During: once a user has successfully registered, found the right vehicle, and unlocked it, he or she must feel like they're getting into their own car. This means making sure that the car is straightforward to use and hasn't been overly modified by a previous user: convenience is key, and so is cleanliness!
After: When the trip is over, billing needs to be transparent and simple. Transparency, especially with regard to finances, can build trust and keep the user coming back time and time again. Users need to feel like the trip was affordable, that they got their money's worth with no strings attached.
They also need to trust that the app has accurately registered the end of their trip so they are not overcharged. Additionally, resolving issues in a professional and timely manner is necessary to maintain user loyalty.
5) Have a clear marketing strategy
When preparing their marketing strategy, the main thing that any operator must do is define their key audience and adapt their strategy accordingly. The "5 P's of Marketing" are just as good of a reference in carsharing as they were back in college:
People: Who is the main target audience? Are they corporate or casual? Do they understand car and technology jargon? Chances are they don't, so an effective marketing narrative should be tailored to the target audience, not your fellow colleagues.
Product: when it comes to carsharing, especially, the best stories should involve the customer journey and focus on lifestyle. Ultimately, marketing brings the final offer to the customer – meaning not just the car – but what the car can bring to people and their lives.
Price: as a rule of thumb, carsharing rates should be at least 30% less than ride-hailing and taxi providers. Pricing may need to be reviewed depending on whether it is based on per use or subscriptions and membership rates.
Promotion: analyzing data, finding gaps, and launching targeted actions need to be prioritized as part of any marketing strategy, but especially in carsharing. Internal Vulog data shows that among both new and old users, 70% took advantage of promo codes sent to them. As for ''new'' users who had already downloaded the app but had never taken a trip 33% did, in fact, sign up to take several trips after receiving a promo code.
Place: The "place" will depend on the target audience. For example, when targeting Millennials and digital natives (ex: Instagram, TikTok), a marketing strategy should be different than when targeting corporate professionals (ex: LinkedIn) or families (ex: Facebook). Timing goes hand in hand with the location. Asking key questions about the needs, whereabouts, and habits of users in their specific environment (geographic, economic, etc.) can help determine the optimal strategy to launch a marketing campaign.
6) Build a community around your brand
Switching from a "commodity" to "community" mindset is key, and this can be done by creating an emotional connection. Operators are not just selling a service as a service provider; they are providing a new set of experiences, a new way of living, and new opportunities to interact with the greater community. By leveraging the power of emotions in a marketing strategy, conversion grows significantly.
Referral marketing schemes allow users to integrate new members into the existing community via special offers or promotional codes. In fact, studies show that there is a higher retention rate among customers referred by current customers (nearly 40%) and that they are 4 times more likely to refer customers to the brand once they have integrated themselves.
7) Leverage the data
Shared mobility generates data, and data is key to improving fleet management, user experience, and consumer expectations. Operators and carmakers must leverage data if they want to optimize cost revenue and generate revenue. There are several ways data can help to optimize cost revenue, notably via demand management.
Knowing where the hot spots and savings opportunities are at different times of the day is key to ensuring that the maximum amount of cars are being used to their full capacity. As an operator, the top priority should be optimizing the unavailability of vehicles, in other words, making sure that all vehicles are being used as much as possible.
Data coming from within the vehicle itself (e.g. GPS, speedometer, battery, gas levels, brakes) can also be extremely useful in tracking drivers' behaviors. It can, for example, help raise a red flag if a user is demonstrating risky driving behavior (e.g. speeding, hard braking, sudden acceleration).
The operator can then decide if the user should be blacklisted should driving behavior become too costly, especially regarding insurance. By identifying risky drivers, insurance premiums become easier to negotiate, leading once again to greater cost optimization.
Finally, data also helps generate profit. It can provide marketing opportunities when, for instance, determining the right promotional codes to use on specific target markets throughout the year.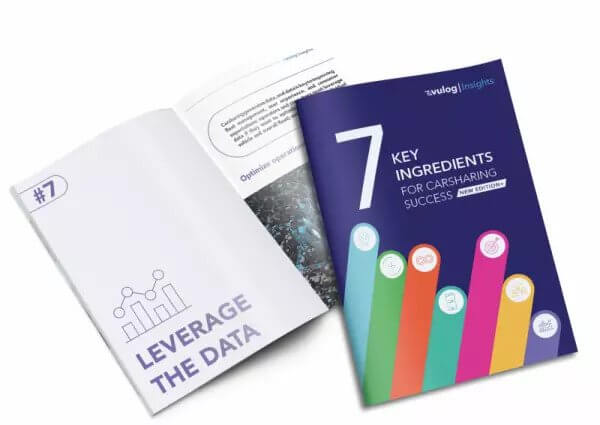 Want to learn more? Download the full report today for more exclusive insights about successful carsharing service!