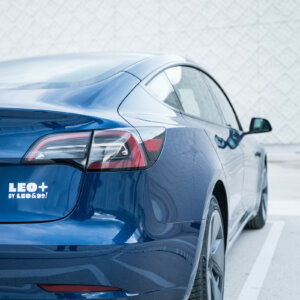 Leo&Go initially launched with 300 electric (Peugeot e-208) and hybrid (Toyota Yaris 4) vehicles available in free-floating/instant access. New, exciting offers are constantly being developed to ensure that users' mobility needs are not only met, but exceeded.
Since last November, the "schedule-a-trip" feature enables users to pre-book a vehicle from the Leo&Go fleet at their desired time and location for 10€. This feature is particularly popular for trips to/from the airport and when transportation strikes hit the country.  An additional revenue stream and more peace of mind for the users.
What's more, users above the age of 30 will now also be able to drive a Tesla Model 3! These vehicles are station-based and this all-inclusive, new Leo&Go+ offer is available in scheduled-booking, for a rental from four hours to 30 days.
Looking ahead, Leo&Go plans on offering a variety of vehicles across its fleet – stay tuned!
Want to hear exclusive insights about Vulog's Mobility Showcase? Subscribe to our Inside Leo&Go newsletter.