In 2021, Vulog launched Leo&Go – the Mobility Showcase. Powered by Vulog's AiMA technology platform, Leo&Go's electric and hybrid carsharing fleet serves the people of the Greater Lyon area — now at over 15,000 registered users and counting — while enabling us to test out new features that are driving the carsharing industry forward. 
Leo&Go's fleet is going bigger than ever thanks to the addition of all-electric LCVs! These spacious vehicles are ideal for transporting heavy items, relocating homes, going on an IKEA run, or even carrying a multitude of suitcases to the airport.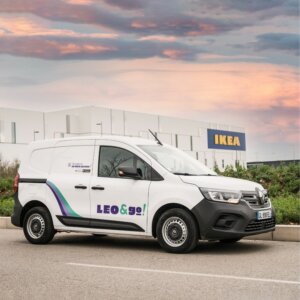 Available 24/7 in free-floating and bookable from the Leo&Go app, the light commercial vehicles have been a hit with residents of the Greater Lyon area since their launch this past March. In fact, a typical journey taken with a Renault Kangoo is two to three times longer than trips with any other vehicle operated by Leo&Go. Plus with 15% off all trips being reserved via the schedule-a-trip option, the accompanying pre-booking fee has created an additional source of revenue.
In general, adding larger vehicles to a carsharing service has proven to be a great way to boost user acquisition and activity! According to Fabien Rebiffé, Vulog's Customer Success Director, we are seeing more and more operators diversify their fleets in this way.
 Recently we've observed operators in-fleeting vans for a number of use cases: dedicated offers for B2B customers with specific needs (mining/energy industry), enlarged offers to address B2C needs (home furniture shopping), and offers built exclusively on vans (long-distance, one-way rental). People who have switched from personal car ownership to car sharing appreciate that their mobility provider can now also meet this specific need to move large items around.
 Due to the high demand, Leo&Go will add more LCVs to its fleet before the end of June and even larger vehicles by the end of the year.
Want to hear exclusive insights about Vulog's Mobility Showcase? Subscribe to our Inside Leo&Go newsletter.