Gas stations are rapidly evolving; therefore, fuel retailers are shifting their vehicle-centric approach to a more diverse and multi-use one. What does the rebranding of a traditional gas pump station entail? What are Mobility Hubs? And why are they the future of gas stations?
February 16, 2022. The electric revolution is happening right in front of our eyes and the bottom line is the future of transportation is electric. Mobility hubs are the future of gas stations. Why? We answer this question and more below:
Key players putting the breaks on oil
Driving electrification
Gas stations: On the brink of extinction? Or the birth of a new era?
Rebranding gas stations as Mobility Hubs
Paving the way toward change
Defining features of Tomorrow's Mobility Hub
Applying the "Mobility Hub" concept to industries beyond travel and transportation
Key players putting the brakes on oil and driving electrification
Over the last year, most automakers have released their ambitious plans to forge forward in the new-energy era. By 2035 Volkswagen will stop producing combustion engine vehicles. GM has committed to stop the selling of gas and diesel vehicles by 2035.
In addition to the $30 billion, Ford has already committed to EVs through 2025, 40% to 50% of its global vehicle volume will be fully electric by 2030. And by 2040, Honda will be saying goodbye to all gas vehicles.
If the commitments from automakers weren't enough to make us believe in an all-electric future, then the Biden administration's executive order (signed on December 8, 2021) should make it very clear where we're heading.
The order lays out sustainability targets for the federal government that are a first of its kind. In doing so, it positions the United States to lead by example in the fight against the climate crisis. A major highlight includes a commitment from the federal government to purchase all-electric vehicles for their fleet of 600,000 cars and trucks by 2035.
Driving electrification
The push to go electric is happening at lightning speed due to government regulations and high consumer demand. Therefore, seeing more EVs on our roads is inevitable. Why can't gas stations afford to wait any longer to act now? From a financial perspective, changing nothing could be a dealbreaker.
A decline in demand for fuel means that the long-term outlook for fuel retail will decrease significantly in value. McKinsey estimates $87 billion in 2019 to an expected $79 billion in 2030. The good news is that this decline can be offset by gains in non-fuel retail (e.g. EV charging). Plus, the global forecourt value pool is expected to increase from $22 billion in 2019 to $30 billion in 2030.
With all this momentum driving us toward a cleaner, greener, and electrified future, one burning question remains. What will happen to the 150,000 gas stations across the USA, and how will they evolve?
Gas stations: On the brink of extinction? Or the birth of a new era?
Historically gas stations have had a monopoly on filling up the tank. But as consumer habits pivot towards electric energy, is their longstanding reign finally coming to an end? The reality is that, yes, it very well could come to an end. But only IF gas stations don't keep up with the connected, autonomous, shared, and electric transformations happening across the transportation and mobility industries.
When imagining a gas station 10 years from now, there are key factors we need to consider. We know electrification is the future; that people will still need fuel for years to come; that consumers crave maximum convenience when it comes to their transportation needs. And we know there are people who choose to live a car-free lifestyle but still require access to (shared) vehicles, and therefore, charging and fueling options.
So what can gas stations do to not only stay in the game but also get a competitive edge?
Rebranding gas stations as Mobility Hubs
You need to charge your vehicle in between meetings, but you still need to get some work done as you wait. Or maybe you're heading into the office after a couple of days of teleworking at home and your car needs some gas and a few last-minute repairs. Or you might even be hopping off a shared e-bike, grabbing a package and a bite to eat, before booking a shared car to make it on time for karaoke at a friend's place.
Now imagine – one location where you could go for all your mobility needs, whether you're an electric vehicle driver, a traditional fuel-powered vehicle driver, or an individual looking to rent a vehicle to take your next trip. This is why mobility hubs are the future of gas stations. Tomorrow's Mobility Hub is the epicenter of travel and convenience. It brings together the oil and gas industries, the clean energy space, and the shared mobility market to deliver the most innovative offerings and meet the transportation needs of every consumer type.
The physical infrastructure for Mobility Hubs is already in place thanks to the omnipresence of gas stations. Demand for electrification infrastructure is driving governments to implement legislation accordingly. By partnering with leaders in the charging space, oil and gas players ensure that their locations become essential hotspots for commuters and travelers seeking fuel and charging capabilities. Add in connected new mobility services (like carsharing and on-site digital rental) and you've got yourself a future-proof business model.
Paving the way toward change
So which oil and gas player will lead the way? Who will revamp their traditional offerings most creatively while creating a space that is ready for the all-electric future? One player currently stands out from the rest. Shell is coming out of the gates fast! We've already seen multiple examples of innovation from this market leader.
In London, Shell has replaced fuel pumps with Ultra-Rapid charge points. The EV hub features solar panels on the roof and chargers will be powered by 100% certified renewable electricity. In China, they are partnering with local EV manufacturer, Nio. Together they are developing co-branded battery swap stations, with plans to reach 100 sites by 2025. In Europe, the two players are developing one of the continent's largest charging networks through Shell recharge Solutions.
Defining features of tomorrow's Mobility Hub
You may be thinking, the concept sounds cool. But what really makes it different from a traditional gas station?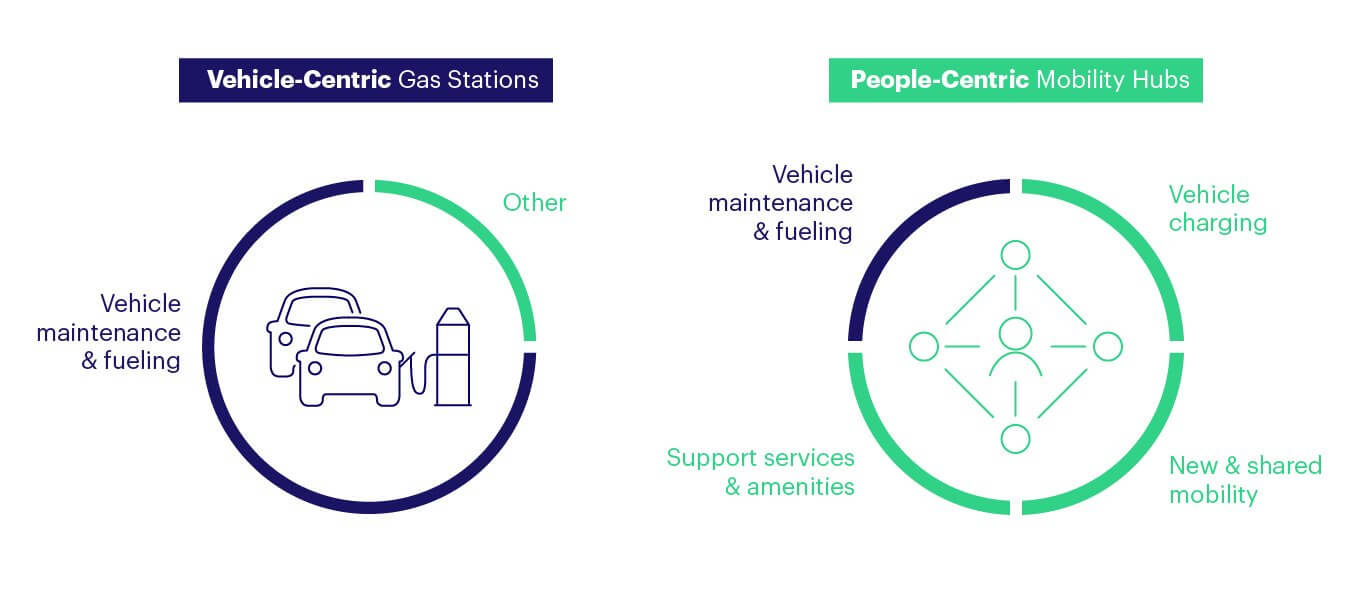 Let's take a look at some of the defining features of tomorrow's Mobility Hub:
1/ VEHICLE MAINTENANCE & CHARGING
Today, the main reason you go to a gas station is to fuel your vehicle, and sometimes, do a quick clean/vacuum, or wipe the windows. Currently, we can find many essential maintenance services in everyday gas stations such as cleaning services (automatic/self-service car wash, vacuuming, and air pumping station for cars). Standard vehicle maintenance services like tire changes or parts replacements can also be found at certain stations. Simply put, the goal of your typical gas station is to get drivers back into their private vehicles and onto the open road.
Tomorrow's Mobility Hub will not only aim to get drivers back in their cars and out on the open road. It will cater to all users of all modes of transportation and mobility, making them an essential one-stop shop for a wide demographic of commuters and travelers.
Not only will car drivers be able to continue to use traditional fueling and cleaning services, but EV drivers will feel right at home. Although historically, gas pumps have been the main source of fuel, demand for alternative fuels (like hydrogen/biofuel cells) and EV charging have been gaining traction fast.
In fact, by 2030 over a third of all new vehicles sold on the market will be either partly or fully electric, making the charging-equipped Mobility Hub the go-to location for all types of electric vehicles: electric cars, e-bikes, mopeds, etc.
2/ NEW & SHARED MOBILITY
E-bikes, car sharing, subscription/flexible leasing, digital car rental – you name it. If you don't own a private vehicle, you can find one to fit your exact needs at any given time at the Mobility Hub of tomorrow!
New and shared mobility services have seen a tremendous rise in popularity over the last couple of years, and electrification across the transportation industry has only amplified their growth. They've been popping up in cities worldwide and will be a key feature of Mobility Hubs with the goal of bringing maximum convenience to travelers and commuters who don't want to own a private vehicle.
The future looks bright, with BCG estimating that shared mobility solutions will account for nearly 20% of on-road passenger miles by 2035. And with electric charging becoming such a dominant feature of mobility hubs due to the growing EV market, shared mobility services – which tend to be electrically powered – will fit right in.
New mobility services like subscription and digital rental will also call Mobility Hubs home. Due to both offering ultimate convenience and the ability to address short and long-term mobility needs while complimenting the first and last-mile solution offered by bike and car sharing, for example, but also public transit.
The same logic applies to ride-hailing and carpooling services. Those Mobility Hubs offering a designated "meet-up" point for commuters waiting for a ride, will generate extra revenue for Mobility Hubs as they will tend to utilize other services available at the Mobility Hub.
3/ SUPPORT SERVICES & AMENITIES
What makes Mobility Hubs truly stand out is their customer-centric approach compared to the traditional, vehicle-centric service station, often considered a tedious pitstop for commuters and travelers. Tomorrow's Mobility Hub will not only be practical for mobility and travel purposes, but it will also aim to be enjoyable for people passing through, a communal place for people to grab a coffee, catch up on work, or grab a package while meeting their transportation and mobility needs.
The rooftop of the Mobility Hub can house an urban rooftop farm/garden where fresh and organic fruits, vegetables, and aromatics grow. Nearby solar panels provide clean, renewable energy and have a low maintenance cost. Below, travelers can enjoy comfortable benches and green spaces.
Rain, hail, or sunshine, people can even choose to sit outside if they are needing some fresh air as the safe and convenient outdoor waiting areas are protected from the harsh weather. Clean, accessible toilets are a no-brainer, and cafés for both food and drink will provide an indoor area to relax at times when the weather is less cooperative.
Co-working spaces will also be a major incentive for commuters to stop by Mobility Hubs in lieu of traditional gas stations, in order to charge up both their vehicle and themselves. For example, an employee traveling between client meetings or satellite offices that needs to charge their electric vehicle will find Mobility Hubs perfectly suited for their work and commuting needs. Doing so while working remotely from their laptop at the Mobility Hub's co-working space as their vehicle charges mean busy workers make full use of their time.
4 / COMMUNITY-BUILDING ASSETS
Tomorrow's Mobility Hub will unite private, shared, and public travel modes. Accessibility is very important starting with safe and easy-to-read signage. For example, pedestrian and bike paths, priority bus lanes, and passenger waiting areas. Such measures ensure a harmonious flow between all types of commuters and travelers.
Geographically, the Mobility Hub should be strategically positioned to allow for greater accessibility to public transit stops (buses, the subway, cable cars, and trams) via a clearly identifiable city map and real-time timetables. Imagine dropping off your shared e-bikes at the Mobility Hub right on time to hop onto a public bus at the nearby bus stop to take you home.
Mobility Hubs are the future of gas stations. As such, they will improve the environment and quality of life in surrounding communities. Studies have shown that increased, more efficient transportation is positively correlated with labor market growth. With tomorrow's Mobility Hub rendering a variety of transportation and mobility options more accessible than ever before to a wider demographic in thousands of communities sprawled across the nation, a greater number of people – especially underprivileged groups – will be able to benefit from greater economic opportunities.
Plus, as a central nervous system for commuting and travel, it will inherently contribute to community-building by bringing together people from different backgrounds and lifestyles. In fact, it will be a natural catalyst for generating new connections and positive interactions among people via their various channels of social interactions (café, garden, dining areas, co-working spaces, etc.).
The feelings of community that tomorrow's Mobility Hub will bring to travelers and locals alike will be amplified through collaborative projects. Sponsored murals painted by local artists, for example, can provide an open and inclusive space for more engagement and a positive urban environment.
Applying the "Mobility Hub" concept to industries beyond travel and transportation
To fully drive the evolution of Tomorrow's Mobility Hubs, traditional gas stations need to shift their vehicle-centric approach to a more multipurpose one. Offering users a diverse range of services and utilities all in the space of one convenient location is the future, and going beyond the traditional functions of a service station is no longer just a passing idea – but the reality – as consumers' needs continue to adapt.
Gas stations need to move now to stay relevant, requiring a total transformation and reimagining of the service station.
By offering a convenient and enjoyable space to refuel/recharge not just their vehicles, but themselves as well, first-time visitors transform into regulars in no time. The once obsolete, dried-up gas station develops a whole new allure as an integral part of every commuter's and traveler's journey. The result? Everyone wins.
Mobility Hubs as the future of gas stations is a perfect example of what we can expect to see with other types of spaces in the coming years.
For instance, commercial centers, property development areas, and even parking lots and garages. The way users are starting to use cars, such as carsharing services and electric and autonomous driving, will inevitably affect the future of parking. Electric vehicle drivers may use those car parks to charge their vehicles and then continue their journey with a rental bike that is conveniently parked on the spot. Converting unattractive car parks into one-stop shops for shared vehicle parking and electric recharging stations is just one way that parking spaces can be better optimized and utilized.
With the revolution towards a cleaner, greener, and electrified future moving forward at full speed, the relatively novel concept of a Mobility Hub today, will inevitably become a household name in the near future.
Want to find out more industry insights? Check out our blog!