Fuel retailers are shifting their vehicle-centric approach to a more diverse and multi-use one focused on people. For gas stations, this means transforming into Mobility Hubs as a way of future-proofing their business. Discover the main features of a Mobility Hub and its impact on your life.
November 18, 2022. You may be wondering, what is a Mobility Hub? The general definition of a Mobility Hub is any major transit station area that offers commuters a variety of services for both vehicles and people in a way that promotes a low-carbon society. This includes, but is not limited to, all transportation and mobility needs. An added objective of the Mobility Hub is to improve the quality of life of commuters but also surrounding communities. And the main features of a Mobility Hub include:
Vehicle maintenance and charging
New and shared mobility services
Support services and amenities
Community-building assets
How will a Mobility Hub revolutionize our daily lives? Let's dive into the main features of tomorrow's Mobility Hub and what that means for you:

Vehicle maintenance and charging
Today, the main reason you go to a gas station is to fuel your vehicle. With essential maintenance services at traditional gas stations often readily available, you may also do a quick clean/vacuum or pump your tires while you're there. Standard vehicle maintenance services like tire changes or parts replacements can also be found at certain stations. Simply put, the goal of your typical gas station is to get drivers back into their private vehicles and onto the open road.
Tomorrow's Mobility Hub will go beyond the bare necessities of private vehicle maintenance and charging. It will cater to all users of all modes of transportation and mobility. It will be an essential, one-stop shop for a wide demographic of commuters and travelers, addressing a plethora of their diverse needs.
Not only will car drivers be able to continue to use traditional fueling and cleaning services. EV drivers and other commuters will feel right at home, too. Why? Although historically, gas pumps have been the main source of fuel, demand for alternative fuels (like hydrogen/biofuel cells) and EV charging are gaining traction. In fact, by 2030 over a third of all new vehicles sold on the market will be either partly or fully electric. Equipped with diverse fueling and charging stations, the Mobility Hub will be the go-to location for all types of electric vehicles: electric cars, e-bikes, mopeds, etc.
New and shared mobility services
E-bikes, car sharing, subscription/flexible leasing, digital car rental – you name it. If you don't own a private vehicle, you can find one to fit your exact needs at any given time at the Mobility Hub of tomorrow!
New and shared mobility services have seen a tremendous rise in popularity over the last couple of years. Electrification across the transportation industry has only amplified shared mobility growth. Services have been popping up in cities worldwide and will be a key feature of Mobility Hubs. The goal? Bring maximum convenience and broaden accessibility to travelers and commuters who don't want to own a private vehicle.
In fact, BCG estimates that shared mobility solutions will account for nearly 20% of on-road passenger miles by 2035. And with electric charging becoming such a dominant feature of mobility hubs due to the growing EV market, shared mobility services – which tend to be electrically powered – will fit right in.
New mobility services like subscription and digital rental will also call Mobility Hubs home. Due to both offering ultimate convenience and the ability to address short and long-term mobility needs while complimenting the first and last-mile solution offered by bike and car sharing, for example, but also public transit. The same logic applies to ride-hailing and carpooling services. Those Mobility Hubs offering a designated "meet-up" point for commuters waiting for a ride, will generate extra revenue for Mobility Hubs as they will tend to utilize other services available on-site.
Support services and amenities
What makes Mobility Hubs truly stand out is their customer-centric approach compared to the traditional, vehicle-centric service station. Gas stations are often considered a tedious pitstop for commuters and travelers. Tomorrow's Mobility Hub will not only be practical for mobility and travel purposes, but it will also aim to be enjoyable for those passing through. It will be a communal place for people to grab a coffee, catch up on work, or grab a package – while meeting their transportation and mobility needs.
Mobility Hubs may house an urban rooftop farm/garden where fresh and organic fruits, vegetables, and aromatics grow. Nearby solar panels provide clean, renewable energy and have a low maintenance cost. Below, travelers enjoy comfortable benches and green spaces. If they need some fresh air, they can take a walk or relax in one of the mini-parks. Clean, accessible toilets are a no-brainer. And cafés for both food and drink will provide an indoor area to relax when the weather is less cooperative.
Co-working spaces will also be a major incentive for commuters to stop by Mobility Hubs to charge up both their vehicle and themselves. For example, an employee traveling between client meetings or between satellite offices may need to charge their electric vehicle. They will find Mobility Hubs perfectly suited for their work and commuting needs since they can access a co-working space as their vehicle charges. Result? Busy workers make full use of their time and optimize their schedules.
Community-building assets
Tomorrow's Mobility Hub will unite private, shared, and public travel modes. Accessibility is very important starting with safe and easy-to-read signage. For example, pedestrian and bike paths, priority bus lanes, and passenger waiting areas. Such measures ensure a harmonious flow between all types of commuters and travelers.
Geographically, the Mobility Hub should be strategically positioned to allow for greater accessibility to public transit stops (buses, the subway, cable cars, and trams) via a clearly identifiable city map and real-time timetables. Imagine dropping off your shared e-bikes at the Mobility Hub right on time to hop onto a public bus at the nearby bus stop to take you home.
Mobility Hubs will improve the environment and quality of life in surrounding communities. Studies have shown that increased, more efficient transportation is positively correlated with labor market growth. Tomorrow's Mobility Hub will render a variety of transportation and mobility options more accessible to a wider demographic in communities nationwide. This means that a greater number of people – especially underprivileged groups – will benefit from greater economic opportunities.
Plus, as a central nervous system for commuting and travel, it will inherently contribute to community-building by bringing together people from different backgrounds and lifestyles. In fact, it will be a natural catalyst for generating new connections and positive interactions among people. The communal areas (café, garden, dining areas, co-working spaces, etc.) will encourage social interactions.
The feelings of community that tomorrow's Mobility Hub will bring to travelers and locals alike will be amplified through collaborative projects. Sponsored murals painted by local artists, for example, will provide an open and inclusive space for more engagement and a positive urban environment.
People versus vehicle-centric
To sum up, what makes a Mobility Hub different from a traditional gas station and what impact will it have on your life? Your experience will become largely people-centric, catering to not just your vehicle's needs, but your needs as well.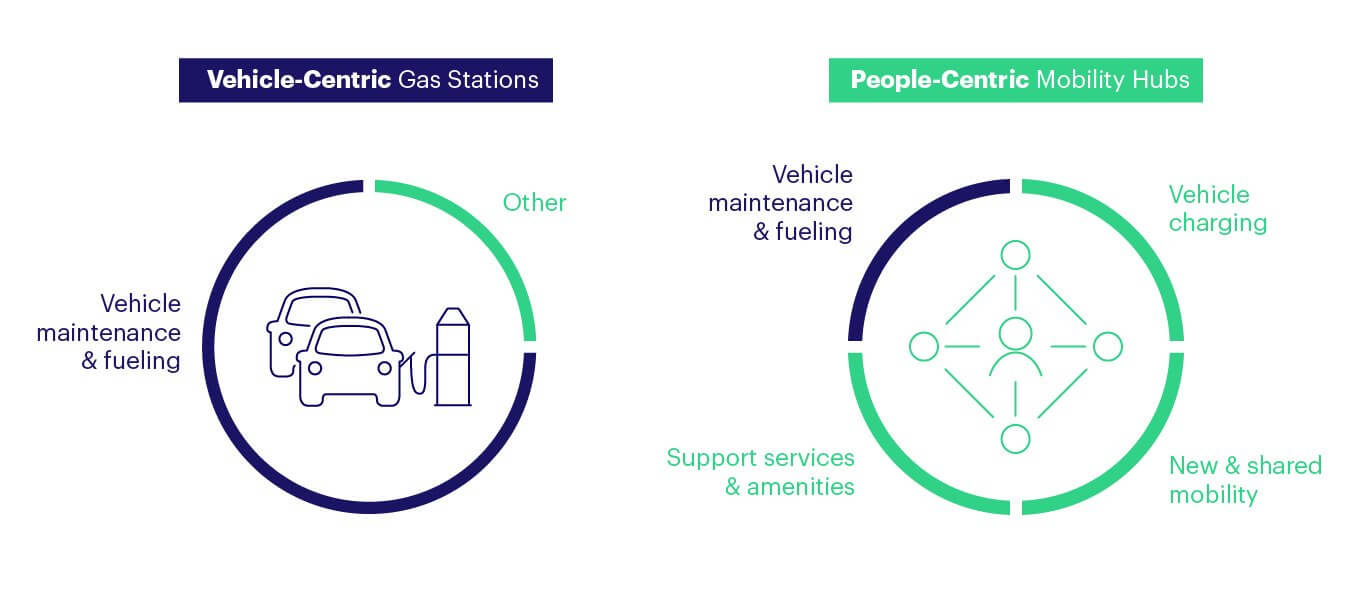 With the revolution towards a cleaner, greener, and electrified future moving forward at full speed, the relatively novel concept of a Mobility Hub today, will inevitably become a household name. The main features we've covered in this article will soon become, quite literally, very familiar territory.
Want to find out more about Mobility Hubs? Learn more here or check out our solutions.